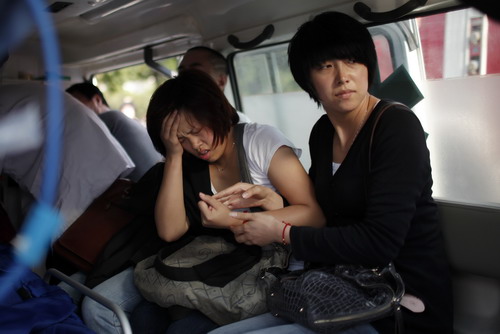 Women who had been riding the Shanghai subway on Tuesday afternoon await treatment in ambulances after one subway train rear-ended another, which had stalled on Line 10.[Photo/Reuters]


Safety fears as cities rush to build subways, He Na reports from Beijing.
Considering the millions of passengers who travel by subway every day without incident, underground trains are relatively safe. Try telling that to the 284 passengers who were injured on Sept 28 in the Shanghai subway crash.
Or to the experts who have seen a rise in problems and accidents on the subways in China. More are anticipated as cities compete to have the newest, biggest and most quickly built subways in the country.
The need to travel in the city efficiently and rapidly sends many passengers underground, far from the madding crowds and traffic jams.
But the rapid pace of opening and expanding subways in China thwarts the sound planning that is needed, experts say.
Zhang Yan, secretary-general of the China Civil Engineering Society, put it this way: "A subway is the comprehensive exploration of space, which requires time for prudent investigation and planning, or else it will lead to irreparable damage to society and the environment."
Shang Rupeng, 31, worries about irreparable damage to himself. He loves subways, and he bought his apartment in Shenzhen largely because it is just five minutes' walk to the Bao'an Center station. But since Sept 12, he would rather risk traffic congestion on surface streets and tardiness to business appointments
Power failed on the subway he was riding on that Mid-Autumn Day. "He told me he thought of the Wenzhou train crash on July 23, which killed 40 and injured about 200, and the idea of death flashed in his mind," his wife, Liu Ting, said.
"I still have the jitters when I remember that I had been trapped in the totally dark and stuffy train carriage," Shang said. "I will never forget the scene. People rushed crazily into the first few compartments for fear of a rear-end collision."
Nobody was injured and the crash Shang feared that day didn't happen. But it did on Sept 27 below Shanghai. A subway train on Line 10 crashed into a stalled train in the tunnel that links Laoximen and Yuyuan Garden stations. Signal failure is being blamed.
The wreck of the high-speed trains in July involved one train hitting a stalled train. A preliminary investigation cited a design flaw in a signaling system.
There have been other problems in and around subways in China: breakdowns, electricity failures, signal errors, collapsed tunnels and water leaks. In Beijing on July 5, a rising escalator suddenly reversed direction; a 13-year-old boy died and 28 people were hurt.
Those are results of the nation's expensive rush to build subways, experts warn. They say it's time for the government to reduce the pace of construction and pay more attention to the risks and to hidden problems.
Millions of reasons
The Ministry of Public Security reported that by the end of August, the number of autos nationwide topped 100 million for the first time. Total vehicles reached 219 million. It's no wonder, then, that officials and citizens look underground to escape traffic congestion in more and more cities.
Subways offer some obvious advantages to motor vehicles on roads. They move people efficiently. They run on electric power, which pollutes less than fossil fuels. Overall, they are safer.
And they are popular. Shanghai's subway operating company reported that its record is 7.15 million trips in one day and annual capacity is 2.3 billion, which is 1.8 times China's total population. Beijing Rail Traffic Control Center said passenger flow on its network hit a record on Sept 9 of 7.57 million, more than double the population of Los Angeles.
The latest report by China International Capital Corporation shows that as many as 36 cities in China have submitted plans for subway construction, including more than 20 cities where subways already operate or are being built.
Recognize for a moment that the world's first subway opened to traffic in London in 1863. The total lengths of subway lines in three other top world cities now are 304 kilometers in Tokyo, 286 km in Moscow and 221 in Paris. Based on each domestic city's subway vision, China will have nearly 20 cities with subways longer than those three cities within 20 years.
"With a yearly increasing subway length of at least 100 kilometers, China used 10 years to finish the work that developed countries did in 100 years," said Wang Mengshu, an academic at the Chinese Academy of Engineering and a professor at Beijing Jiaotong University's tunnel and underground engineering research center.
"We have reasons to be proud," he said, "but many problems cannot be neglected."