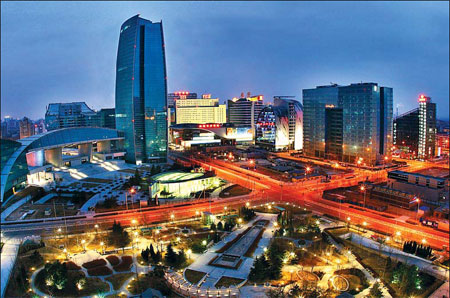 Night view of the central area of Zhongguancun
[Photo/China Daily]
The Zhongguancun Forum is a conference that covers the fields of science, technology, economics, intellectual endeavors, finance, and politics, under a general theme of "innovation and development".
It is an annual event, which was first held in 2007, and is meant to help the development of the Zhongguancun National Innovation Demonstration Zone while projecting an international image.
The first conference had a theme of "innovation, cooperation and development" and pulled in nearly 400 delegations from China, the United States, Germany, France, and seven other nations.
The participants issued a joint statement, saying they would work to increase the globalization of creativity.
The following year, the forum had the theme "technology - global innovative challenge" and drew around 1,000 people, including ambassadors and representatives of chambers of commerce from more than 10 countries.
The speakers included two Nobel Prize winners and two winners of the Turing Award, which is given annually by the Association for Computing Machinery (ACM), to "an individual selected for contributions of a technical nature made to the computing community".
In 2009, its topic was "innovative ability and the spirit of entrepreneurs".
Speakers included Justin Yifu Lin, chief economist and senior vice-president of the World Bank, and Liu Chuanzhi, president of China's Lenovo Group.
Major topics for discussion included the low carbon economy, financial innovation and development, and intellectual property rights protection.
A memorandum of cooperation was signed by the Zhongguancun National Innovation Demonstration Zone and South Korea's Daegu Gyeongbuk Free Trade Zone.
The 2010 Zhongguancun Forum drew more than 2,000 participants, who discussed on research and development in the creativity industry, major trends in it, and the possibility of more international cooperation. The theme was "A base for strategic emerging industries".
After only a few years of development, Zhongguancun has itself become an important indicator of China's improvements in various industries. And it has seen its own breakthroughs in core technologies and creativity.
It is also the birthplace of China's electronic information industry and is leading the development of the new generation of information technology.
It claims to be the most complete, biggest information technology industry center for integrated circuitry, mobile telecommunications, software services, biologics, and high-end equipment manufacturing.